Designing an office space may be a long process, part of which includes finding the ideal carpeting for the business. When selecting the carpet for your next office project, you must evaluate the area to be covered and take into account a variety of variables that may have an impact on the commercial carpet types.
What to Look for in Commercial Carpeting in High-Traffic Areas
The best carpet for your busy facility should be made of a material that makes building maintenance easier, encourages a safer work environment, lasts for a long time, and offers the desired aesthetic. Choose a carpet that is easy to clean and extremely stain- and spill-resistant for commercial carpet cleaning services. In order to keep your clients and staff safe while travelling from point to point, make sure your carpet is non-slippery. Finally, pick a carpet material with a wide range of design and color to complement the ambiance of your office.
There are two forms of industrial carpeting that meet all the criteria listed above.
Nylon Carpeting
For many good reasons, nylon is a common material for carpeting in office buildings. This synthetic fiber material lasts for a long time, resists stains, and keeps its color. Commercial carpet care is also a breeze with nylon office carpeting because of its tightly woven fibers, which make vacuuming and more intensive cleaning techniques like steam cleaning and shampooing quite effective.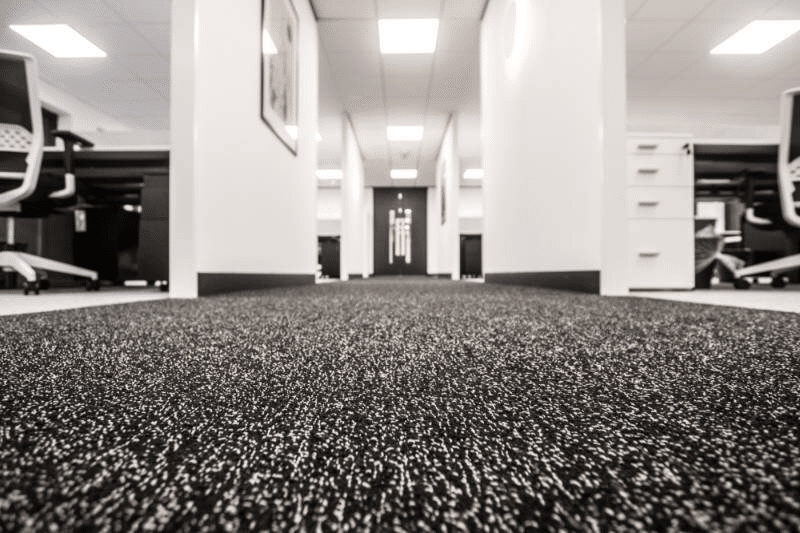 Wool Fiber Carpeting
Wool fiber carpeting is a close second option for busy office spaces. The natural lanolin covering of wool repels spills and stops moisture from accumulating. It offers soft surfaces that gives ease in walking if comfort is a top priority. It also makes maintaining and cleaning the office very painless, just like nylon.
A GUIDE TO SELECTING THE RIGHT CARPET FOR YOUR OFFICE