As a business owner, you can't settle for just any old carpet. You need commercial carpeting that can stand the test of time. Here are some differences between commercial carpeting and residential carpeting from the experienced and trusted team at Competitive Commercial Carpet.
More Durable
Custom commercial carpet online is more durable than residential carpeting, making it suitable for any industry. Businesses have higher foot traffic, as well as more dirt, pets, kids, and movable furniture, so commercial carpeting is a vital installation. You don't want to replace the carpet every couple of years due to wear and tear. You also don't want employees, customers, and potential clients to walk along a worn and tattered carpet. Your carpet is a representation of the quality and character of your business.
Lessens Noise
One of the most significant advantages of commercial carpet is that it reduces noise. Unlike hardwood, tile, or vinyl flooring that all reverberate sound, carpet can reduce noise throughout your office space. Employees can focus better on the task at hand when they are not hearing the echoes of people walking around and talking in the building. Carpet also allows your staff members to conduct client meetings in peace and listen to conference calls without interruption. In short, carpet encourages productivity.
Added Safety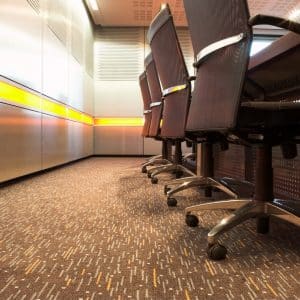 When you install it at your office or another type of business, you are adding safety. Too often, employees in high heels or hard-bottomed shoes tend to slip on vinyl or tile flooring, leading to an accident. Commercial carpeting in high-traffic areas of your business will reduce falls and cushion the blow if someone does accidentally stumble.
Easier to Maintain
While tile or vinyl may seem easier to maintain, contemporary commercial carpeting provides a low maintenance option for your business. It is durable, so it doesn't require constant maintenance like other surfaces. Moreover, commercial carpeting is stain resistant, so even if something does spill, it will be easy to remove.
Reduces Energy Costs
Installing commercial carpeting leads to a reduction in energy costs for most businesses. While tile, vinyl, and hardwood deflect and reject heat, commercial carpeting absorbs and retains heat in the floor and surrounding surfaces, which keeps the building toasty during the fall and winter months. Since the thermostat does not activate as often, your energy expenditure will diminish, meaning you save more money.
Enhances Appearance
Lastly, commercial carpeting can improve the appearance of your business. When a client arrives at your office, he or she will formulate their opinion based upon the first room they enter. This room's décor, professionalism, and overall appearance will influence the client's first impression of your business. The right commercial carpet can be an exceptional element that excites the client and portrays your business positively.
Order Your Custom Commercial Carpet Today
Given the numerous benefits associated with commercial carpet, your business needs to utilize commercial carpeting. No matter your commercial carpeting needs, we can fulfill them. With a vast selection and unbeatable prices, Competitive Commercial Carpet is your number one destination for all things commercial carpeting. Visit our products page or call us at 706-526-4800 to learn more about how we can upgrade your carpeting today!