Gone are the days of cookie-cutter carpet for your office. Now, with today's technology, a company can create custom carpet based on your needs and expectations. You don't have to stick to the ordinary selection already preexisting on the market.
Your office can stand out from the rest in the building with a custom carpet from Competitive Commercial Carpet in Dalton, Georgia. Today, we will explore how custom-made carpets online match the requirements of the client to produce a high-quality and satisfactory product.
What Does Custom Mean?
So, what does the word "custom" mean when we talk about making a custom carpet? It means that you will be able to select every single feature for the new carpet in your office. You have complete control over the carpet construction when you choose commercial carpet online with the help of one of our team members.
The Custom Carpet Process
The custom carpet process is a lot easier than you might think. It doesn't take weeks on end to design your custom carpet, especially when you work with a member of our experienced team to make your vision come to life. The process for developing a custom carpet for your office includes the following steps: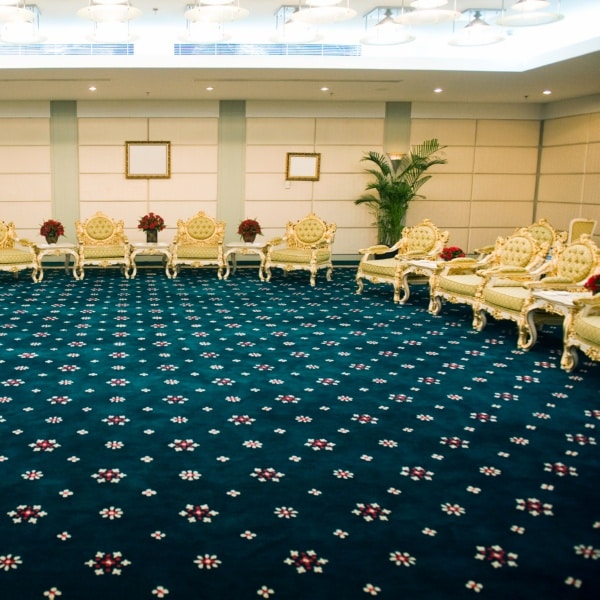 Choose the content of the carpet.
Choose the construction of the carpet.
Choose the design or pattern of the carpet.
As you can see, there isn't a lot of steps that go into making a custom carpet for your office, restaurant, bowling alley, doctor's office, or other commercial space.
You can pick just about any carpet you desire when designing custom carpet for your commercial space. This fact is particularly important if you need carpeting for a bowling alley or similar business, which often utilizes neon colors that interact with the lighting installed in the building. Do you operate a doctor's office for children? If so, a colorful carpet featuring a playful design can help them relax and relieve their stress while they wait for their appointment.
Your Options Are Vast
Now that it's possible to create a custom carpet from scratch, you have access to a never-ending selection of carpet choices. You don't have to spend hours sifting through a catalog of premade carpets with the hope that you will find one that piques your interest or matches your style. With a custom-made carpet, you can choose everything from the color, fabric, thread count, density, width, pattern, and more. In the end, you will have a carpet you like, not one you will need to replace in a couple of years because it no longer matches the style of your office. Contact Competitive Commercial Carpet today to begin the customization process.
Build a Custom Carpet Today
If your office needs a new look, one of the best ways to achieve it is with custom commercial carpet online. Be sure to speak with an experienced member of the Competitive Commercial Carpet team about your carpeting needs. Call us today at 706-526-4800 to schedule an appointment. A member of our team will visit your office and coordinate with you to create your perfect carpet construction, so it meets your every need and expectation.