When many people go to choose a carpet for their business, they may find the styles, types, and options overwhelming. However, choosing the right carpet doesn't have to be a daunting task. With the right supplier, such as Competitive Commercial Carpet, selecting the best carpet for your company can be an effortless process. This article will provide an overview of different styles of carpet that are suitable for specific businesses, whether it's a casino or a retail store.
Important Questions to Ask
The following are some central questions to ask yourself before choosing the carpet for your business:
Does the carpet provide durability?
Does the carpet suit the area?
Can you easily maintain the carpet?
Is the design of the carpet attractive?
Does the price of the carpet fit your company's budget?
If you fail to ask these questions about commercial carpet online, your selection may disappoint you. The answers to these questions are readily available when you order from Competitive Commercial Carpet.
Bowling Alley Carpets
Bowling alleys have carpets everywhere, except for the lanes themselves. These establishments utilize carpet throughout the main walkway, the arcade, the pro shop, the front office, and the vestibule. These areas receive heavy foot traffic throughout the year, especially when it rains or snows. The best choice for bowling alley carpet is a custom design with neon features. These neon flakes or designs add a playful glow to the surface both throughout the day and during cosmic bowling.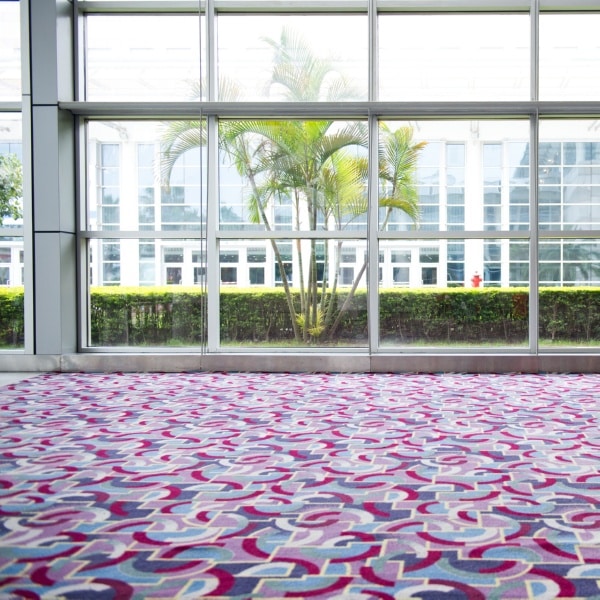 Movie Theater Carpets
Movie theaters utilize carpets throughout the establishment apart from the lobby and bathrooms. The hallways leading to the theaters and the theaters themselves typically contain carpeting. Why do movie theaters have so much carpeting? The reason is practicality. Wall-to-wall carpets in movie theaters prevent people from slipping and falling, especially when they are navigating to their seats in a dimly lit cinema. These carpets should have plain designs and dark colors to match their surroundings.
Restaurant Carpets
Most restaurants cover the dining room in carpet. Some locations use tile, laminate, or vinyl flooring, but carpet is one of the most popular choices for restaurants. In a restaurant, you should avoid blue, because blue signifies poison and may cause many customers to lose their appetite. On the other hand, red or orange carpet colors can tantalize guests into being hungry.
Carpets for Casinos
Casino floors receive a lot of abuse from people shuffling back and forth between machines and tables all day and night. Therefore, carpet in casinos must be durable and capable of withstanding a high level of punishment. Many casinos choose carpet with weird designs and odd colors. Why? Loud carpet designs discourage people from looking down, and they draw the eyes of gamblers to attractive slot machines and plush tables. Moreover, busy carpet patterns can hide cigarette marks and drink spills better than ordinary colors.

Need New Carpet for Your Business? Call Competitive Commercial Carpet Today
No matter your commercial carpeting needs, we can fulfill them. With a vast selection and unbeatable prices, Competitive Commercial Carpet is the premier destination for all things commercial carpeting. Visit our products page or call us at 706-526-4800 to learn more about how we can upgrade your carpeting today!